CBD (cannabidiol) is one of the major cannabinoids derived from industrial cannabis and has a beneficial effect on the endocannabinoid system in the human body. This system takes care of the balance (homeostasis) of many processes that can be disrupted in certain stressful situations. During such periods, CBD can help restore this balance.
In the European Union, CBD has the status of a novel food, while elsewhere dietary supplements with CBD are freely available on the market, for example, in some US states. Under certain conditions, CBD products can also be sold in shops in the UK, where the authorities have said that 70 mg of CBD is the recommended maximum daily intake for this versatile cannabinoid.
As an example, let's look at some general guidelines and how consumers use CBD in the UK, where CBD products are very popular.
Each and every one of us is different and therefore also the response of consumers to CBD products might vary. For example, if the user is extremely sensitive to any additives, foods, cosmetics or medicines, he/she is advised to start with low CBD doses – up to 10 mg per day. For those who are not so sensitive, the recommended starting daily dose is 20 to 30 mg. Actually, the dosage should be determined according to body weight, which in this case is approximately 0.5 mg CBD per kg of body weight per day. This value corresponds to a daily dose of 30 mg of CBD for a 60-kg person.
It is recommended that the user persists for at least 10 days with the initial daily dose. If he/she does not experience the desired effect, he/she can double the dose and continue with this amount for the next 10 days. The table below shows an example of the dosing of the most popular CBD drops. If the effect is still not felt by the user, continuing to increase the dose as shown in the table below (a higher dose every 10 days) is suggested. Daily doses can be used in any way: either as a single dose in the evening or the dose being evenly distributed throughout the day (morning, mid-day and evening).
Due to the different response of the human body to the use of CBD, the dose that solves the problem for an individual can be different. Some people successfully eliminate their problems by taking 25–30 mg of CBD per day, while some only get better at higher doses, e.g., 60 mg per day. The dose can always be increased or decreased during use, as the level of stress in our body and other symptoms fluctuate – this is a completely natural phenomenon. Therefore, when taking CBD products, it is recommended that users record the status and any observed changes in time. If CBD is used for general well-being, the user can monitor, e.g., changes in stress levels, mood, and sleep quality. It is necessary to take into account the fact that changes when taking CBD products are sometimes barely perceptible, which is especially common during the initial stages of use, when the user is trying to find the dose that will be most suitable and effective for him/her. For CBD products, it is also common that users experience changes in chronic problems such as anxiety, headaches, stress and problems with prolonged use.
Although many studies have already confirmed the safety of CBD, caution is important. For example, in the case of the concomitant use of medication, experts advise consulting a personal physician before using CBD products. Experts do not recommend taking daily doses of 70 mg CBD or more, or recommend that the user consults a personal physician before taking such high doses. Due to the lack of clinical studies, use is currently not recommended for pregnant women, nursing mothers and children unless the personal physician considers the benefit-risk assessment of CBD to be positive.
Chart with examples of administration of CBD drops: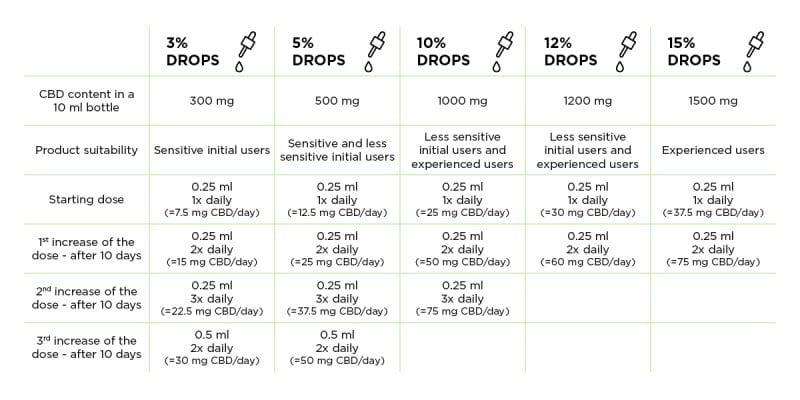 ---
At Pharmahemp we are rewarding our loyal customers with special offers and launches of new products. You can follow us on our social media and website for all updates. For any questions regarding the manufacturing process, quality control and final products, do not hesitate to contact us at store@pharma-hemp.com.