CBD has become very popular with many people in the past few years, and more and more people are starting to consider giving CBD to their kids. Cannabinoids are extracted from hemp plants and are thought to provide you with multiple invigorating benefits. But in spite of its beneficial properties, you should be cautious before giving CBD to your kids.
There is no evidence that the CBD products on the market are safe or effective for children. The FDA has only approved one CBD product: a prescription drug called Epidiolex that treats seizures associated with certain types of epilepsy in patients who are 1 year of age and older. Let's take a closer look at what we know about this prescription drug.
Epidiolex
According to Renad Abu-Sawwa, the first plant-derived, purified pharmaceutical-grade cannabidiol (CBD) medication, Epidiolex, was approved in the United States by the US Food and Drug Administration (FDA) on June 25, 2018. It is a CBD-only component, with no tetrahydrocannabinol (THC). Epidiolex is for patients who are 1 year of age and older with Dravet syndrome (DS) or Lennox-Gastaut syndrome (LGS). This medication has revolutionized the treatment of medically refractory seizures in these patients.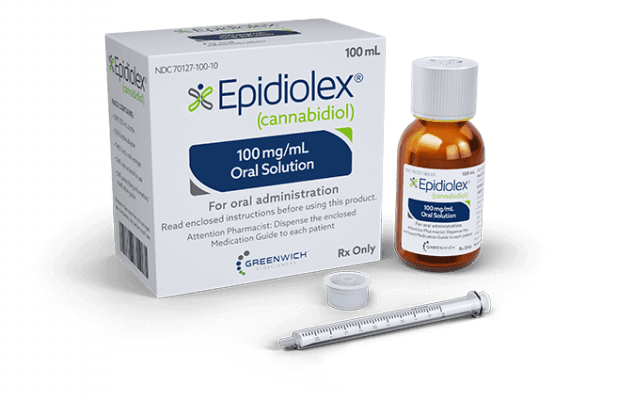 Some questions & answers:
Are Epidiolex and CBD the same thing?
Epidiolex is the brand name for the pharmaceutical-grade cannabidiol oil product produced by Greenwich.
Will Epidiolex cause my child to have euphoria-like experiences (i.e., the "high")?
No, Epidiolex will not create euphoric effects because it does not contain any THC, which is the chemical compound in marijuana that creates the high.
Can my child become addicted to Epidiolex?
No
How is Epidiolex formulated?
Epidiolex comes in a strawberry-flavored, sesame oil–based oral solution.
How should Epidiolex be stored?
It should be stored at room temperature and used within 12 weeks of being opened. It is important to throw away any remaining medication after 12 weeks.
Does Epidiolex interact with my child's other medications?
There is a possibility that Epidiolex might interact with other prescription, non-prescription, and herbal medications that your child is taking. Please speak to your doctor or pharmacist before starting this medication. You should also make sure they are aware anytime you add a new prescription or non-prescription drug. If you have any questions regarding other medications, talk to your doctor or pharmacist.
Can Epidiolex be given with food?
Although Epidiolex can be given with or without food, it is preferrable to give it with meals.
Studies
In a study by Orrin Devinsky and others where they researched Epidiolex (Cannabidiol) in Treatment Resistant Epilepsy we can see that a treatment with Epidiolex is associated with a meaningful reduction in seizure frequency in a high proportion of patients with severe TRE. Those who respond early appear to have a prolonged response.
There are many other studies that have been conducted in order to study the effects of this prescription drug and all state beneficial and positive outcomes for children with Dravet syndrome or Lennox-Gastaut syndrome. It has revolutionized the treatment of medically refractory seizures.
Conclusion
The testing of a number of additional cannabinoids is on the rise. In an article by Elaine Quilici, it is stated that GW Pharmaceuticals will seek US approval for Sativex, which is currently approved outside the US for the treatment of multiple sclerosis spasticity. Also on the horizon are products in Phase-I and II trials for autism spectrum disorders, glioblastoma, and schizophrenia.
There's a lot of anecdotal talk about where cannabinoids, and, specifically, CBD, could apply from a medical standpoint. But until you have the science behind it, you don't have any evidence. Physicians and patients need confidence in the medicine they're prescribing and taking, and the only way to have that level of confidence is to have a medicine that has been through the FDA process.
PharmaHemp advises you to talk with your doctor prior giving CBD to your kids.